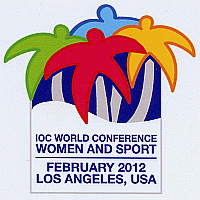 Dr. Eric Vilain (UCLA) "Grows a Conscience" – IOC's 5th World Women's Conference 2012
Los Angeles, February 18th, 2012 - Dr. Eric Vilain, MD, PhD, and Professor, Human Genetics, Pediatrics, Urology at the University of California, Los Angeles [UCLA], as well advisor to the International Medical Commission [IOC] regarding gender verification testing of female athletes, developing of the 2003 Stockholm Consensus and most recently by the highly controversial policy by the IOC Hyperandrogenism rule and NCAA's gender inclusion policy this past September. Another example of an oppression tool (neither supported by factual science) of designed oppression of a women(s) endocrine system, which is illegal, immoral and in-fact medically unethical, positioning the NCAA in a place of future human rights violations with ANY future athletes that the NCAA attempt to us these 
policies and procedures against any athlete, and god-forbid they do. The lacking common sense, as it relates to human physiology, let alone laws surrounding human rights violations is profound of which NO RESEARCH was done.  Again only done hypothetically, of which science when done properly proves otherwise.
Rogge states in his open comments at the conference;
"We need more women leaders throughout the Olympic Movement, not only to prove our commitment to gender equality, but to take advantage of their brains, their energy and their creativity."
Vilain invited by the IOC this past weekend in Los Angeles, to present at the IOC's 5th World Women's Conference where Vilian made a stunning confession saying;
"Women with disorders of sex development have no competitive advantage than any athlete with good genes".
It seems Vilain has grown a conscience, recognizing the unfathomable impact of his work and colleagues on so many women over the last five decades of which he has been a participant over the last ten years, that has only had catastrophic impact directly onto female athletes, of which is well know behind the scenes. The development of gender verification testing and the Stockholm Consensus created and published by the IOC, admitted by IOC Medical Commission president Patrick Schamasch, to Canadian government and officials, Mianne Bagger and me on September 18th, 2006, that in-fact the IOC had never done the science and or research to support their current gender policies. It was all done on a hypothetical level. Of which, as science has proven the claims made by Vilain and the IOC as scientifically untrue.
This has been going on behind the scenes away from the public for several years. Vilain's statements this weekend were NOT new news to those engaged behind the scenes, but the increased pressure on these individuals to tell the truth as in-fact these issues were only continuing to hurt and violate more women.
The most recent evidence, of such impact of a young South African woman of which policies led to severe human rights violations and a degree of humiliation so profound few words can describe, of which her "gender was never in question", and everything about this incident, as one behind the scenes 99% of what was published was untrue. Though having life long implications for her and many women before her, and brought to the IOC's attention by Canadian officials in 2006, that more then eight women had been impacted by these false policies since 1985, including a dear friend 800m runner from India Santhi Soundarajan. Who that following December at the Asian games was gender tested and violated. Her very identity thrown into suspicion, of her identity as a woman of which she was violated physically socially, her silver medal being take from her, placed into poverty, thus trying to take her life do to the global humiliation.
We are humiliating women… This is what the IOC is doing, creating false policy unsupported by factual science and data,  as now Vilain is trying now to denounce himself from, for his participation in these horrific policies designed to disempower and humiliate women, designed by men. Suggesting any association to competitive performance, where the mounting medical evidence accumulated over the last several years says otherwise.
Seen by many women and sport, leaders in sport in Canada, now educated about the issues of gender, are asking big questions of the IOC, Vilain and fellow colleagues, led by IOC Medical Commission Chair, Prof. Arne Ljungqvist who has the prolific designer and father of gender testing over the last five decades. Most recently in October 2011, in a joint presentation at the Play the Game conference, in Cologne Germany, speaking about the issues of gender in Olympic and International sport, made stunning comments on gender that by any standard and medical expertise of which he could not medically back.
The all too famous Ljungqvist comment, "Owe it is very difficult." We can see from Ljungqvist's response yes it is for him, as he known's he has failed horribly and these comments are deliberate to avoid his accountability – and taken (50) years. As Canadian top ethics expert John Dalla Costa projected in a recent conference call with Sport Canada recently;
"With the mounting evidence, to suggest ignorance and not knowing, is no longer a viable answer…"
Thus Georg Facius (Denmark) in the same session with Ljungqvist and Canada's own Dr. Bruce Kidd, Facius in his presentation requested for his immediate resignation from the IOC Medical Commission for the (5) decades for his incompetence, and impact this has had on so many women historically. Remarking "gender testing is a serious business" in his opening statements  further stating "The Major Medical Blunder of the 20th Century" and as Dr. Kidd noted, has only had "catastrophic impact on female athletes".
Click Here For Full Video Presentation.
The concept of (2) pole sex society doesn't exist in nature.  This is a man-made concept, as both Facius and Kidd spoke to in Cologne.  Too suggest otherwise is unethical. We are trying to force nature into man-made policy, instead of understanding nature and building policy around it.
"You are trying to fit a square peg into a round hole… Women specifically are getting terrorized and violated physically and socially because of it."
What Vilain is declaring in LA this past weekend, that what has happen to so many women, Caster, Santhi, including me and dozens of others, should have never happened. Through their policies, which again were ONLY hypothetical, not backed by REAL science and has led to human rights violations carried out specifically on women. These have been declared "Tools of Oppression" on ALL women, as noted in the conference outcome report, parallels and is consistent the problems in sport, sport participation and leadership position within International sport and Olympic programming.
Outcome Results of LA Women's Conference – The numbers are staggering but speaks to the reality of the OPPRESSION of women, and the "TOOLS" designed and measured to do just that.
What we are seeing is the "stereotype" of woman of which women are forced to fit into, which we do not do to men. Men it is an open field. Thus is you fall outside of Atypical socially definition accepted female; "look out we are going to get you and we will humiliate you…", breaking ALL social, ethical laws and human rights. The sad part is too, the IOC they think can do this and feel they have a right to violate women, as IOC President on a conference  call with Canadian officials when asked about gender testing me in-fact as an athlete he replied, "I can do anything I want…". Though as shocking as that was, in principal there lack of, through ignorance and perpetuating fear and "pinning women against women", and suggesting competitive performance advantage, of which they cannot prove and never will be, focusing on the stereotype of "men overpowering women", which again is not true by science and they know it. What they in-fact have been doing disempowering women and placing limits on us, not allowing women to appear strong bodied and become great female athletes. Again we allow this for men and not women.
This is a social problem, and was never an issue of physiology.
Vilain's presentation though note worthy from the standpoint as a key figure and consultant to the IOC Medical Commission, his 180 degree turn that no longer as self-proclaimed experts who in-fact are NOT experts, and not in the pockets or friends of the IOC, the real evidence of which they have continued to try to oppress over the last several years, can no longer hide the past and in-fact now asking enormous ethical questions from a medical perspective of Vilain and others who participated in these programs of policy development with the IOC, on the basis if Human Rights and participation and safety in sport. These guys who term "themselves" as "experts" can no longer denied as the evidence and medical expertise, says otherwise.
It can only be assumed, Vilain is trying to distance himself from this history. Unfortunately, the athletes who have been violated by these policies did not have that choice and or protections. What Vilain and the IOC need to understand very clearly, that those who commit Human Rights Violations don't get a free pass either. Admitting to what has happened is only the first step.
The knowledge Valain projected we've known for years… and have been well known within these circles. What the issues are now, is the accountability of those who have committed these crimes against women.
WE the women have paid a very dear price for it and this incompetence and we did not get a free pass. We got the constellation prize… Gender verification and full public humiliation and discrimination and our very identities tested and scrutinized globally… Vilain is looking for an OUT! Those violated didn't get that option, why should the violators? Sic!
The shoe is now on the other foot and there is way too much evidence – the level of expertise is over powering, and it is important for the principals of sport and future of the Olympic Movement, that this dark history is identified, and be able to move beyond it, so no more women will be physically and socially humiliated and as Maria José Martínez-Patiño said, she felt "RAPED" in 1985. Which is a common expression by most of the women directly exposed, implicated, isolated and assaulted directly in these experiences.
THERE ARE NO WORDS TO DESCRIBE WHAT IT FEELS LIKE OTHER IT IS STEALING YOUR SOUL. WHO HAS THAT RIGHT?
WE ARE REAL HUMAN-BEINGS AND WOMEN BEHIND THESE WORDS… JUST LIKE YOU…
"We must stop the hurt now…" As I told IOC Medical Commission President Patrick Schamasch September 18th, 2006 by telephone, with Canadian sport leaders. "Someone will be killed if this is not stopped."  Since this time, (8) more women have fallen that I have come to know unfortunately personally.
Published February 20th, 2012