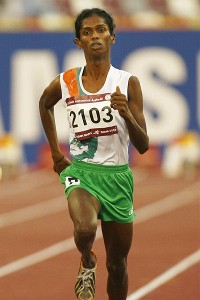 ESPN The Magazine
Caught in the middle
A failed gender test crushed Santhi Soundarajan's Olympic dreams
By Samantha Shapiro
July 31st, 2012
This story appears in ESPN The Magazine's Aug. 6 Fantasy Football issue.
ON A STIFLINGLY HOT Sunday in June, Santhi Soundarajan is watching Star TV's 24-hour cricket channel in her home in Kathakurichi, a rural village in southern India. Outside, scrawny kids play with a banana leaf in the dirt, oblivious to the noonday sun, and a rooster paces, stopping to drop a turd. Kathakurichi is on an unmarked turnoff from the main road in a region known for its Hindu temples and crumbling mansions. The nearest town is a few dusty miles away. The people who live there, including Soundarajan, are mostly day laborers. They mold and fire bricks by hand, or they crouch in ankle-deep water all day planting rice, or they bike to town with a big tin bowl of cow's milk and sell it by the ladle.
A 31-year-old former elite middle-distance runner, Soundarajan bought the house she is lounging in and the TV she is watching with prize money from her running days. It doesn't look like much — a kitchen with a propane stove; a sleeping room with floor mats and a bedsheet for a curtain; a living room with shelves devoted to Hindu icons and sports trophies — but it's a palace compared with the tiny cement hut she lived in with her parents and four siblings until 2005.
Soundarajan has a restless energy and a wide smile. She's slight, 120 pounds soaking wet, but walks with a champion's confidence. During a break in the cricket game, a promo for the Olympics comes on. "I know her," she says through an interpreter, cocking her head toward Krishna Poonia, the Indian discus thrower on-screen. "We used to train together."
Soundarajan is from the lowest caste in India, the Dalits, who were previously known as the untouchables. Sports offered a chance out of the life of backbreaking labor and desperate poverty that she was raised in, and she ran as if her life depended on it, breaking national records and winning hundreds of medals. At age 25, she found herself in Doha, Qatar, at the Asian Games, the second-largest multisport event in the world after the Olympics. Competing against athletes from 45 countries, she won a silver medalthe realization of a lifelong goal. But she enjoyed this triumph for barely a moment before her career was over. Not because of injury or doping. Her body betrayed her in another way: She failed a gender test.
Goto Full Article - "Click Here"