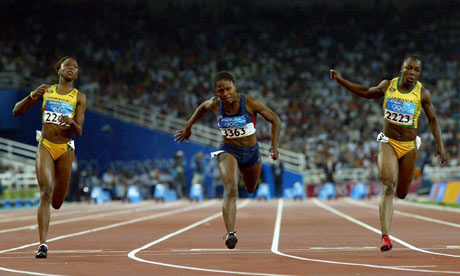 The Guardian
The IOC's superwoman complex: how flawed sex-testing discriminates
Behind the IOC's new policy on male-female testosterone levels is plain bias about what a female athlete should look like.
By Rebecca Jordan-Young and Katrina Karkazis
July 2nd, 2012


Last week, the International Olympic Committee (IOC) quietly dropped what may prove to be a bomb in the middle of the already explosive question of who can compete in women's events in the 2012 London summer Games. The new sex-testing policy threatens to ban women whose bodies produce high levels of testosterone, what medicine calls hyperandrogenism.
In the interests of fairness, men with lower than normal levels will also be banned, or will be required to compete in the women's divisions. The IOC has not yet clarified whether they will need to comply with women's outfits.
OK, so we made up the part about men. But it would, indeed, make sense – that is, if anything in this policy made sense. The problem is that it doesn't.
The new policy was expected, although the IOC has gone even further than last year's policy adopted by the International Association of Athletics Federations (IAAF) in scrutinizing and harassing women who, as all experts agree, have not cheated, and whose athletic performances are clearly within the range of their peer female athletes.
It's downright chilling that instead of discouraging the abuse of hyperandrogenism charges to harass women athletes, the IOC has actually called for the National Olympic Committees to "actively investigate any perceived deviation in sex characteristics" (pdf) among female athletes. (The accompanying bland suggestion that sanctions "may" be imposed on anyone found to ask for an investigation of an athlete in bad faith is not reassuring.)

Goto Full Article - "Click Here"
Published July 2012